This is a place for
content and technology.We gather, we create, we nurture,
and we connect.
CONTENTS x TECHNOLOGY Industorial Hub
This is a place for content and technology.
We gather, we create, we nurture, and we connect.

CiP is a leader in the "content x technology" industry.
We were established in April 2015 as CiP Council.
We promote research and development, education, and entrepreneurial support by merging the pop and technology sectors.
…

We create new technology, educate people, and expand the business to the world by forming new industries.
The following research themes will sprout a new ecosystem.
Music, games, animation, manga, comedy, film
AI, big data, IoT, robotics, mobility, XR
Business, socialization, education, research, creation, promotion, festivals
We will connect all of these together, vertically, horizontally, and diagonally, and create something new.
Telecommunications, broadcasters, IT Specialists, content creators, entertainers, real estate agencies, the construction industry, life insurers, investors, universities, etc. are all participating in this project.
We are also collaborating with the Japanese government and Tokyo Metropolitan Government.
Top-tier digital technology companies will play a central role in the community and develop an "after-corona / with-corona" hybrid environment.
The first step is to start building a 20-hectare base in the Takeshiba area, centered on Tokyo Port City Takeshiba, the world's most advanced 40-floor smart building, which opened in a national strategic special zone in the Tokyo Bay area in September 2020.
We are also cooperating with Aichi Prefecture in the establishment of "Station Ai," one of the world's largest incubation facilities, in Nagoya City.
We will also make efforts to form hubs and collaborations with foreign governments and cities, including Seoul and Barcelona, with which we have already concluded agreements.


VISION
01.

A Japanese-influenced fusion of Silicon Valley and Hollywood

02.

A base where cosplayers gather and robots fly around

03.

A permanent institution to create new industries

04.

An international university and futuristic kindergarten

05.

A hub where creators and entrepreneurs live together

06.

A Dejima in the 21st Century

07.

A daily collection of workshops

08.

A platform for collaboration between industry, government, and academia

09.

A global intersection connecting metropolitan cities in Japan and abroad

10.

A bridge between the sea and the sky
ABOUT CiP
| | |
| --- | --- |
| NAME | CiP Office |
| ADDRESS | CiP, Tokyo Port City Takeshiba Office Tower 8F, 1-7-1, Kaigan, Minato-ku, Tokyo, 105-7508 |
| ACCESS | 4 minutes walk from the North Exit of Hamamatsucho Station(JR / Tokyo Monorail) |
TOKYO PORTCITY TAKESHIBA FLOOR MAP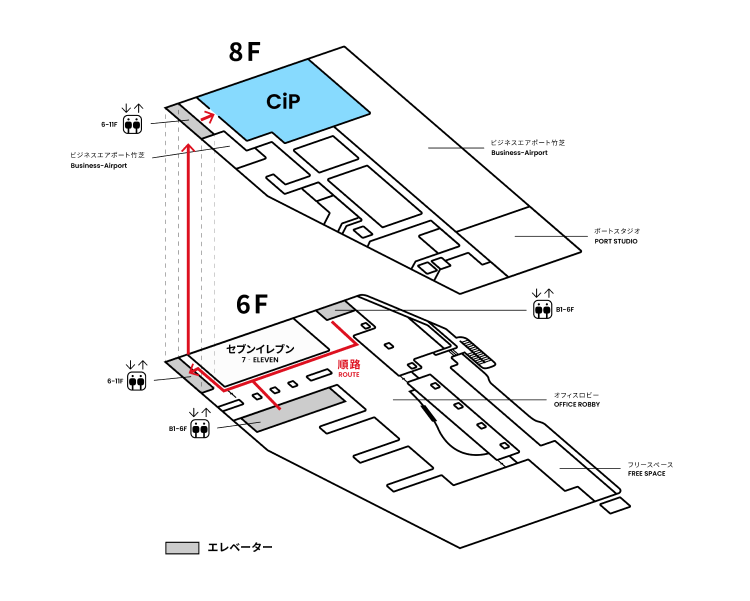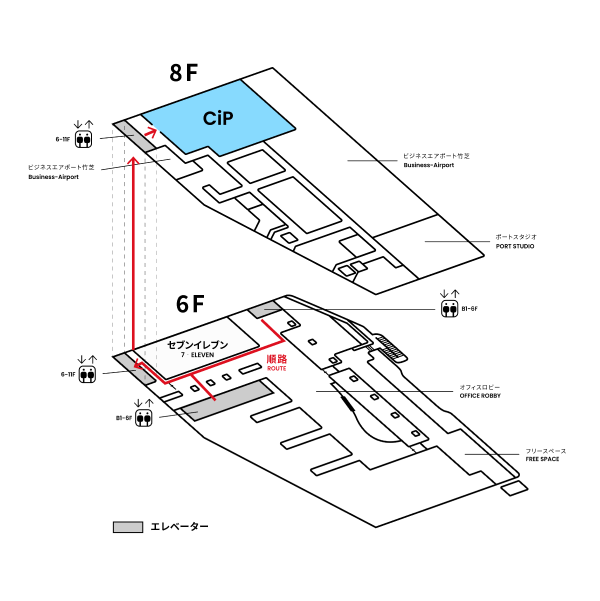 Take the elevator to the 6th floor, then change elevators on the 6th floor and take the north elevator to the 8th floor.